Day of Event Info for Sunday June 7th

MUSIC FESTIVAL
Kick back and relax after your walk or run! Award-winning local performers entertain and inspire us during our jam-packed stage program at the beautiful DCR Memorial Hatch Shell. Get a sneak peek here!
Oompa
Oompa is a nationally-acclaimed, Boston-born, poet, rapper, and educator, who is forever representing the queer, black, orphaned, hood kids and them.
She is the winner of the 2018 Unsigned Artist of the Year award from Boston Music Awards after an unprecedented 6 nominations, the 2017 Women of the World Poetry Slam, is a finalist at the 2016 National Poetry Slam. She has been featured on NBC 10, in Huffington Post, Allston Pudding, Mass Apparel, and Killer BoomBox, Boston Globe, Dig Boston among others.
Oompa's debut album, Nov. 3, was named one of Dig Boston's Top 30 Local Albums of 2016, one of Allston Pudding's Favorite albums of 2016, and she just released her second full-length album, CLEO, in August 2019.
Jill McCracken
Jill McCracken is an indie soul songstress whose music is a celebration of feeling. Though Jill's songs catch the ear as pop tunes, touching heavily on classic soul and Motown influences, a closer listen lets the audience know that these aren't as simple as ABC, 123; there's conflict that lies just beneath the surface of the songs, as nodded to by Jill's sweet and savory lyrics. Jill and her band have shared the stage with touring acts such as Nicole Atkins, Mikaela Davis, Diane Coffee, Xenia Rubinos and Indianola.
Black Bear Extraordinaire
Eziah Blake (they/them/theirs) aka Black Bear Extraordinaire is a 30 year old Black, Queer and Trans theminine spoken word artist, singer, activist, and Boston native. Eziah serves as the Education Coordinator at The Theater Offensive leading True Colors, an award-winning and community-based theater program for LGBTQ youth. Their work as an intersectional artist has inspired their community activism with local and national LGBTQ organizations. Through their social justice and artistic work, Eziah continues to center the voices of queer and trans people of color. Black Bear Extraordinaire has performed all over the state and most recently was featured during TRC Fest at the Sinclair and the transformed fashion show during the First Event conference. Make sure to check out their Never Lost Sight mixtape on SoundCloud.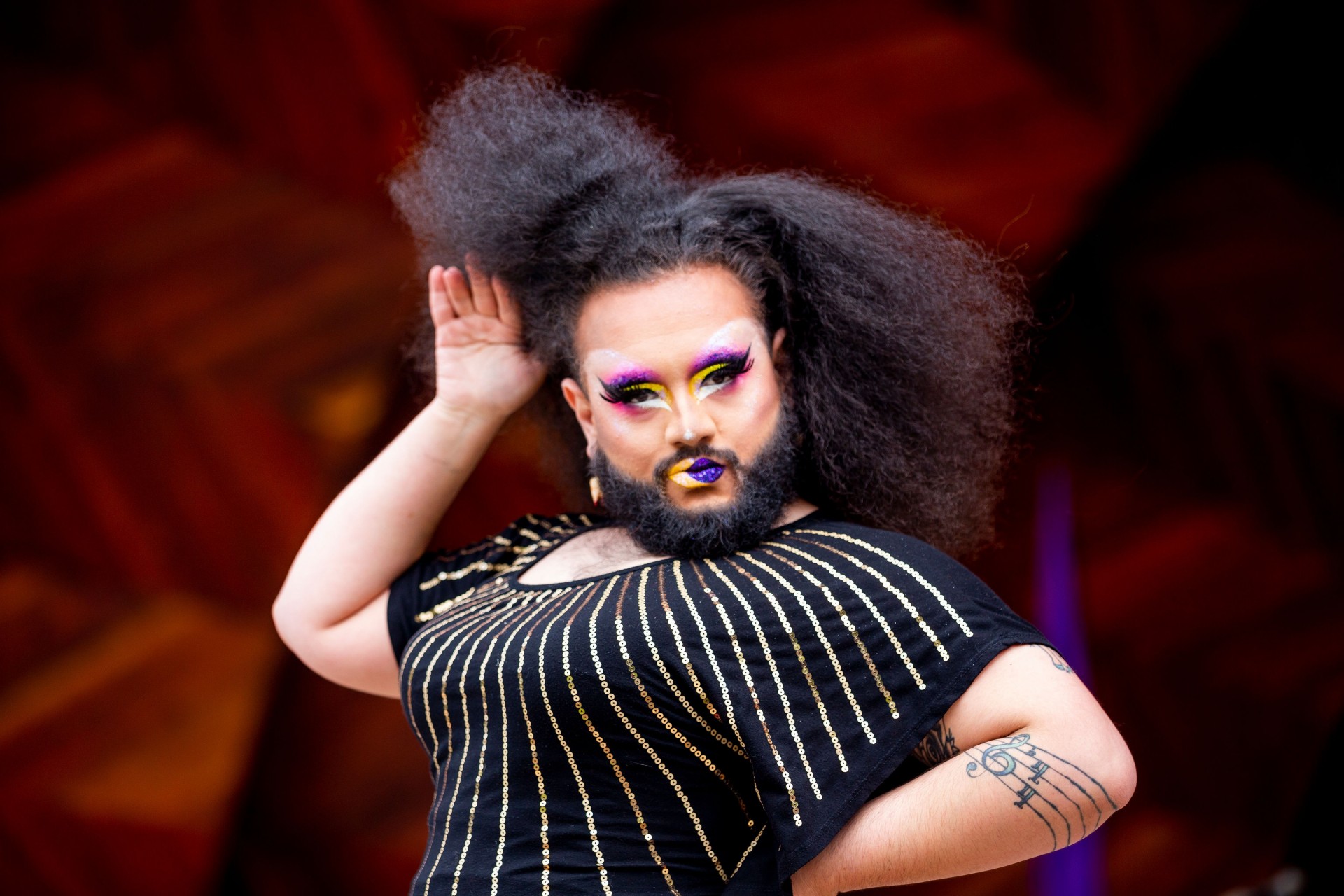 JP Delgado
Just JP is an educator, drag performer, community organizer and writer, as well as the winner of the first cycle of Worcester Drag Wars. Just JP uses any pronouns. Born and raised in El Salvador, JP moved to Massachusetts in 2012, and has been doing drag since June 2016. They incorporate sex education and anti-oppression messages in their performances, often offering political commentary through comedy, while some other times they simply provide a high energy lipsynch to her favorite diva songs. You can follow them on all social media, including venmo, at @dragqueenjp.
Urbanity Youth Crew
Urbanity's Youth Crew is an audition based performance group for hip hop dancers ages 7 - 18 who are students at the Urbanity School. In addition to their regular hip hop technique classes, students in the Crew (divided into three tiers, Primary, Junior, and Senior based on age and skill level) meet weekly to learn performance quality choreography and rehearse under the guidance of our Crew Coordinator and faculty. Urbanity's Youth Crew has performed as part of the ICA's Play Dates series, at the Boston Children's Museum, various community events, and as part of the Boston Youth Dance Festival, co-produced by the Boston Children's Museum and Urbanity Dance.
305 Fitness
305 Fitness instructors lead our warm up! Most classes at 305 are signature dance cardio classes: a non-stop cardio party featuring sports drills, conditioning exercises, and high intensity interval training (HIIT). All cardio classes are 55 minutes long with a live DJ and light show. About halfway through each class, the instructor leads a sculpting section, targeting different body parts each class, followed by a 5 minute "sprint" of interval training. The class ends with more dancing, a cool down, and a stretch. They pride themselves on easy-to-follow party starting choreography, body positive vibes and an inclusive community where all are welcome.